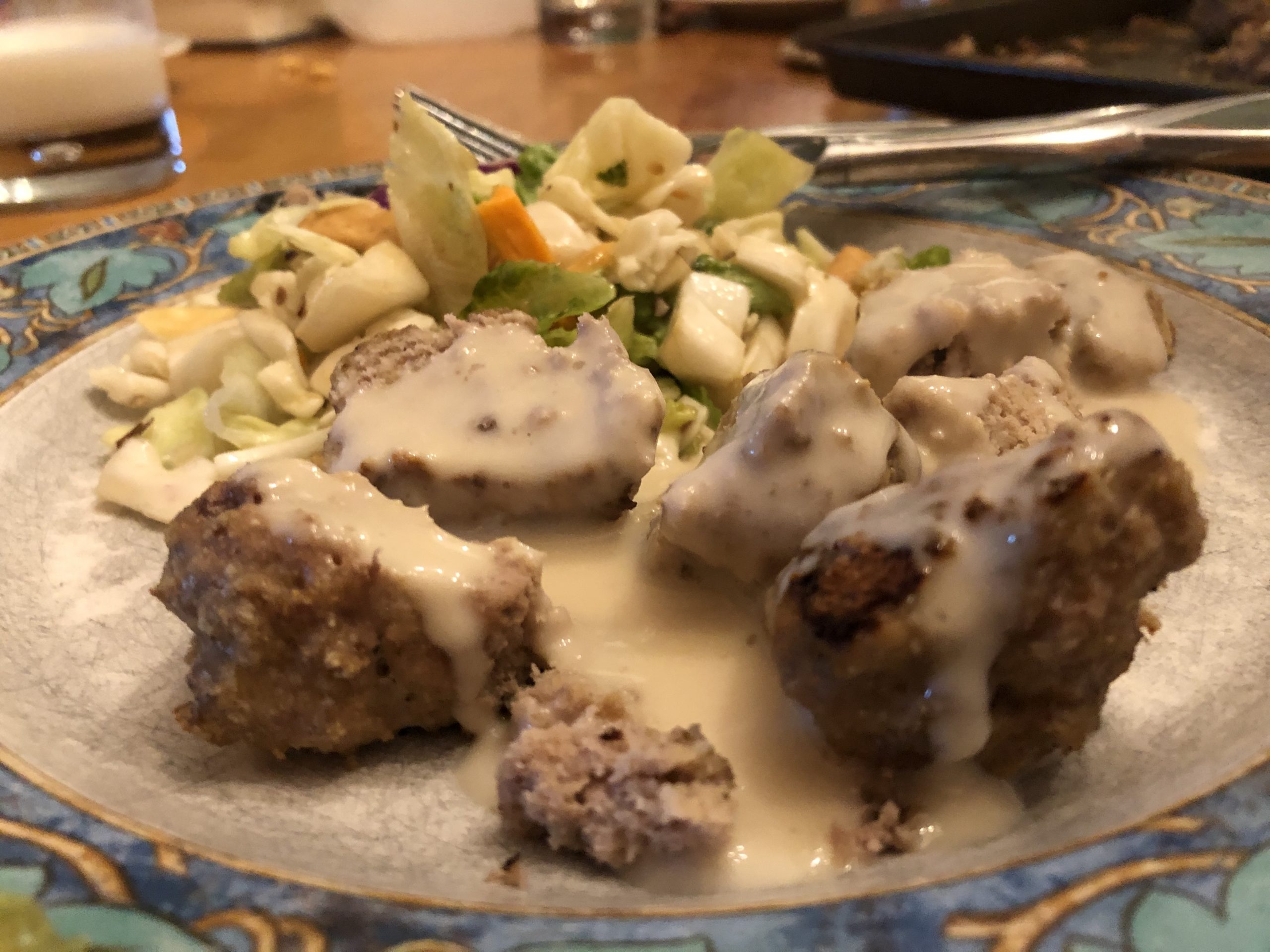 How did I not realize until now that meatballs are tons easier to make if you bake them in the oven rather than cooking on the stovetop?
The meatballs are a bit of a hybrid recipe, taken in part from my trusty Better Homes & Gardens New Cook Book, which is by no means "new" at this point, with the baking instructions from another recipe.  The quantities are given for 1 and 1.5 lbs of meat, because, again, of the teenagers.   And tonight I made it with mostly ground turkey (because I like to pick up a package or two from Aldi) but with a bit of ground chuck added in (because the last time I bought some, I froze it in 5 – 6 oz patty sized quantities).  The recipe that's on the facing page with the IKEA-clone sauce calls for a mix of ground pork and ground chuck, and the BH&G recipe calls for a mix of beef or veal and pork or lamb, so take your pick.
Plus:  the sauce-gravy recipe is a clone of IKEA cream sauce that has sat in my folder of photocopied recipes for years, and I don't know why I didn't try it sooner, since it really turned out nicely tonight.
Meatballs:
1 (2) eggs
1/3 (1/2) cup bread crumbs (store-bought)
2 + tbsp (1/4 cup) milk
2 tsp (1 tbsp) onion powder
1/4 (1/2) tsp nutmeg (give or take)
1 (1.5) lb ground meat (e.g., 1 lb ground turkey, 1/2 lb ground chuck)
Combine all ingredients.  Shape into meatballs, place onto a jelly-roll pan, then bake in a 400 degree oven for 15 minutes, or until cooked through and browned.  (Various such recipes advise wet hands, or using a cookie scooper, or the like.)
Clone cream-sauce:
1 1/4 beef broth (or, let's face it, water and beef soup base)
1/3 cup heavy cream
4 tsp cornstarch
1 tbsp apple juice
1/4 tsp salt
1/8 tsp garlic powder
1/8 tsp onion powder
1/8 tsp white pepper
1 bay leaf
Combine all ingredients except the bay leaf (I whisked the cornstarch with a portion of the water first, then added the rest), then bring it to a boil, add the bay leaf, reduce heat and simmer for 6 – 7 minutes.
Note:  I did not add the pepper, because I forgot, and I only have black pepper anyway.  I also didn't add the bay leaf, because, well, my bay leaf is getting long in the tooth but I haven't gotten a new package yet.  The next time I make the recipe I will try to add and see if I can tell a difference.  I also thought the recipe was a bit runny and may add a bit more cornstarch or less water next time.
Also, the kids used to be apple juice drinkers, but I stopped buying it when it would sit in the fridge for way too long, so for this recipe I bought a package of juice boxes.  As I type this, I'm thinking of taking the rest of the open juice box and freezing in an ice cube tray.
Finally, with respect to the meatballs, they stuck to the baking sheet quite a bit and I'm thinking that next time I'll use aluminum foil.  (Not surprisingly, the prior batch, with just the reverse proportions, mostly ground chuck, didn't have this problem.)
Oh, and last comment:  the salad in the photo is just a generic salad kit from Aldi, not part of the recipe.